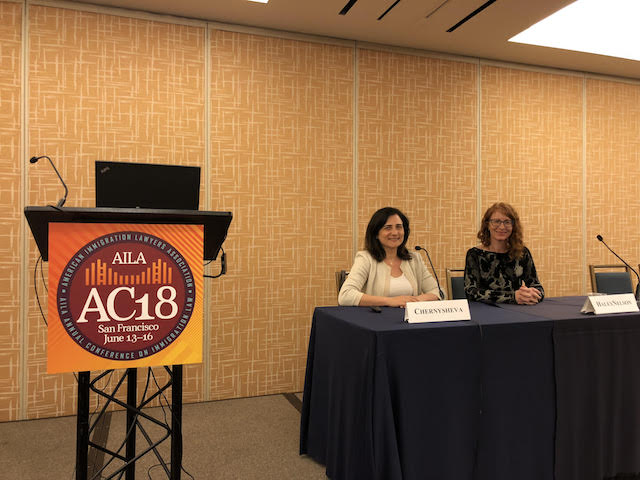 As the Nevada Chapter Chair of the American Immigration Lawyers Association (AILA), attorney Margo Chernysheva actively helps the nation's immigration lawyers enhance their professional skills and stay abreast of current immigration developments.
An experienced Las Vegas immigration attorney and the founder of MC Law Group, Ms. Chernysheva recently spoke at the 2018 AILA Annual Conference on Immigration Law in San Francisco.
She was one of several immigration attorneys speaking on the topic "Mindfulness in Practice: Assessing Diversity and Implicit Bias."
WHAT SPECIFIC TOPICS WERE ADDRESSED?
The panelists focused on cross-cultural awareness and sensitivity issues that are unique to the practice of immigration law – for example, diverse immigration attorneys from various backgrounds representing clients from various backgrounds and countries around the world.
Ms. Chernysheva offered the AILA conference attendees her insights and advice on how to collaborate effectively with attorneys and clients from different cultural backgrounds.
She also spoke regarding the ethical and practical considerations that immigration lawyers must take into account to balance open-mindedness and sensitivity with an awareness of implicit bias, and she explained how implicit bias can affect client representation and case strategy.
WHAT SUGGESTIONS WERE OFFERED TO CONFERENCE ATTENDEES?
Attorney Chernysheva and her co-panelists offered the immigration lawyers in attendance a number of practical suggestions in these four areas:
1. Effective and Culturally-Sensitive Communication Techniques When Working with Colleagues, Clients, and Opposing Counsel
2. Stepping into the Client's Shoes: Educating Yourself in Order to Communicate Client Cultural Norms and Values When Presenting the Case
3. Effectively Communicating with Indigent Clients
4. Increasing Self-Awareness and Demonstrating Respect to Colleagues and Clients
WHAT MAKES CONFERENCES LIKE THIS SO IMPORTANT IN 2018?
In 2018, the future of immigration law is more uncertain than ever before. No one can be sure what Congress, the courts, or the Trump Administration will do regarding immigration in the coming weeks and months.
Now more than ever, it's vital for the nation's immigration lawyers to share insights and information with one another.
The 2018 AILA Annual Conference on Immigration Law offered immigration attorneys the chance to share and learn by conducting a variety of panel discussions that included experts in the fields of not only immigration law but also business law, family law, and criminal justice.
The 2018 AILA Annual Conference on Immigration Law was held at the San Francisco Hilton and Parc 55 Hotels from June 13th through June 16th.
Xavier Becerra, the Attorney General of California and an advocate for comprehensive immigration reform, delivered the conference's keynote address.
Audio recordings of the panel discussions from the 2018 AILA Annual Conference on Immigration Law will be made available for purchase from the AILA website.
WHERE CAN YOU TURN FOR HELP WITH IMMIGRATION MATTERS?
MC Law Group helps clients with all aspects of immigration law including employment, family, and investor immigration. From its offices in Las Vegas; Glendale, California; and Guangzhou City, China, MC Law Group advises and represents clients from around the globe.
If you are an immigrant or a prospective immigrant, an international investor or entrepreneur, or a U.S.-based employer, MC Law Group offers you the experienced and trustworthy legal guidance you need.
Call today – at (702) 258-1093 – or email MC Law Group to arrange a no-cost consultation with an experienced Las Vegas immigration attorney.