USCIS in Washington headquarters has announced three ways to reduce the current crisis with the processing times it takes for USCIS to process already filed and pending application.  USCIS is going to reduce burdens for the legal immigration system. Due to the Covid-19 pandemic and on-going lack of resources due to a prolonged freeze on federal hiring, USCIS has a large number of pending cases along with an increase processing times.
Due to this growing crisis, the USCIS is going to tackle already pending for a long time cases and hopefully reduce processing times for newly filed cases. In addition, they will make sure that the services provided are fair and efficient to applicants and petitioners. USCIS Director Ur M. Jaddou said the "USCIS remains committed to delivering timely and fair decisions to all we serve.
Every Applicant we adjudicate represents the hopes and dreams of immigrants and their families, as well as their critical immediate needs such as financial stability and humanitarian protection."   They have announced three ways that they plan on moving the legalization process along:
Reduce Pending Cases Backlogs
The USCIS agency's backload of pending cases is going to be addressed by creating new internal cycle time goals. They are implementing metrics that will provide a roadmap to the USCIS workforce and guide their efforts on how long it takes the agency to process cases.
When the cycle times improve, processing times will certainly follow. Applicants and petitioners will receive decisions on their cases more quickly. USCIS is going to increase capacity, hire more staff members and improve technology to reach their new goals by the end of 2023.
The agency publicly posted the processing times to show the average amount of time that it took the USCIS to process a particular given form. It measured from the time the agency received the application until they made a decision on the case. Inside of the USCIS, they monitor the amount of pending cases in their workload through what they call "cycle times." These cycle times measure how many months of pending cases per particular forms are waiting a decision.
To measure how much progress the agency is making they compare cycle times to the publicly posted median processing times. This tells the USCIS if they are making progress in lowering the backlog and overall case processing times.
Below are the newly proposed processing times: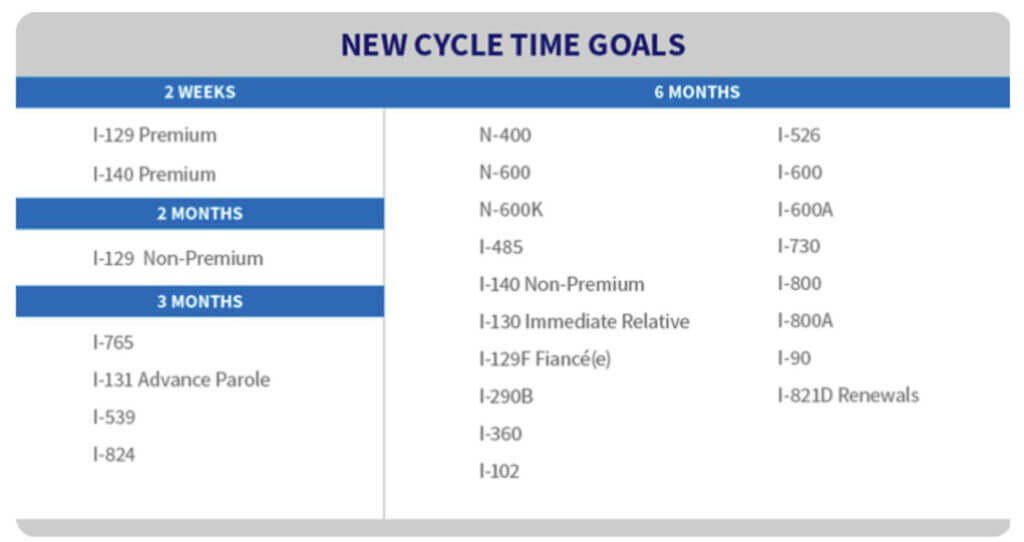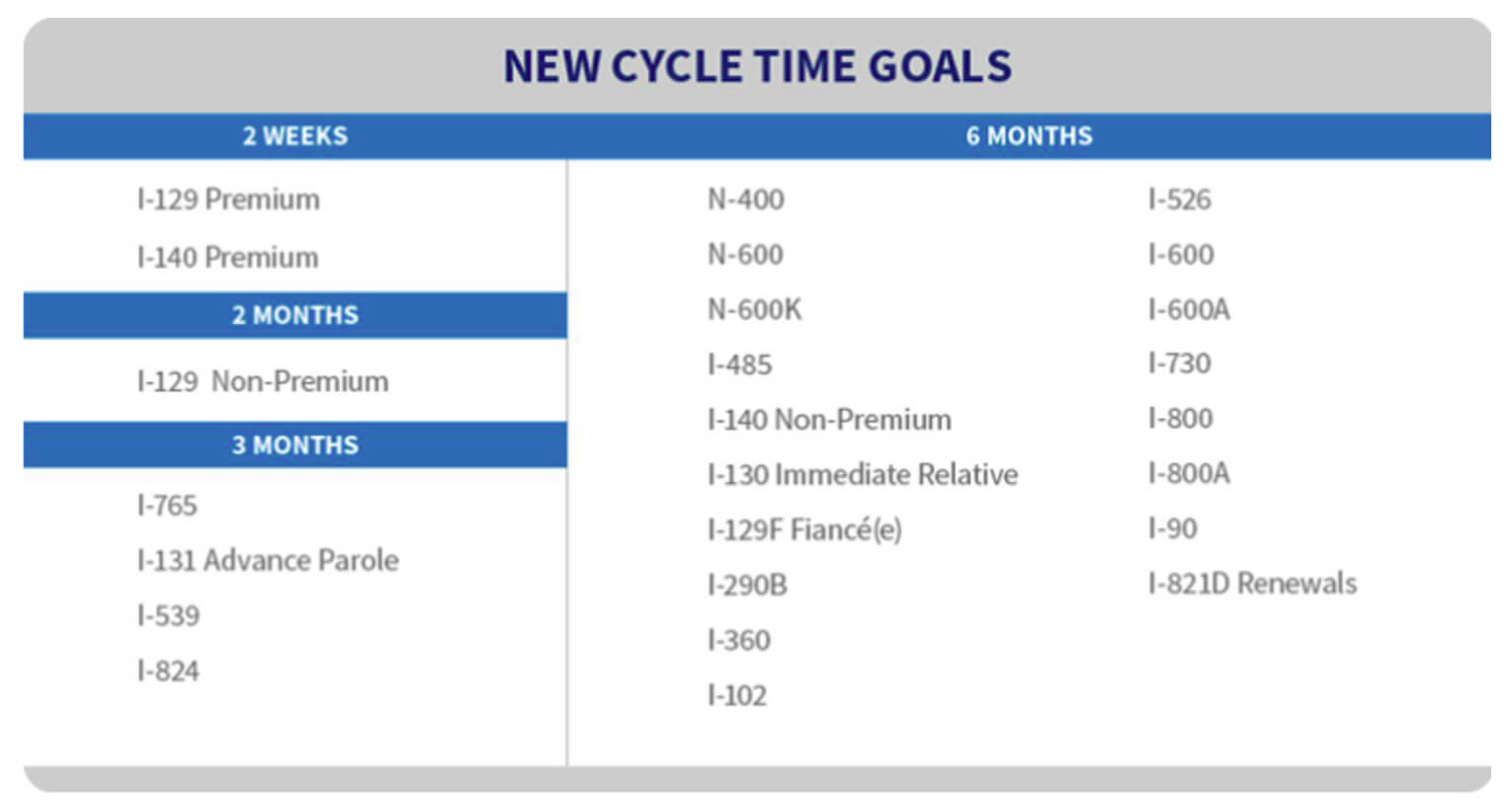 Expand Premium Processing
The Department of Homeland Security (DHS) made a final decision that aligns premium processing regulations with the Emergency Stopgap USCIS Stabilization Act. The rule aligns the premium processing fees with adjudication timeframe that was outlined by Congress.
Premium processing now is only available to petitioners filing a Form-129, petition for a Nonimmigrant worker and to employment-based immigrant visa petitioners filing a Form I-140, Immigrant Petition for Alien Workers. This final rule expands these categories for eligible premium processing services to include Form-539, Application to Extend/Change Nonimmigrant Status, Form I-765, Application for Employment Authorization as well as additional classifications under Form-140.
USCIS plans to begin implementing the new rules using a phased approach in fiscal year 2022. The agency will also follow the congressional rule that premium processing must not cause an increase in processing time for regular immigration benefit requests. However, USCIS now only will except application for I-140 for EB-1C and EB-2 NIW filed before June/July 2021 respectively.  And EAD's premium processing wont start until 2025.
Improving Access to Employment Authorization Documents
USCIS is also promising to continue to make progress towards a temporary final rule named currently "Temporary Increase of the Automatic Extension Period of Employment Authorization and Documentation for Certain Renewal Applicants."
This Temporary rule was implemented in order to provide expedited work authorization renewals for healthcare and childcare workers. The USCIS has also streamlined many EAD processes, including extending validity periods for certain EADs.  For example, E-2, L-2, and H-4 visa/status holders will receive an I-94S that will replace their need to apply for EAD.
Implementation of the Credible Fear and Asylum Processing
Department of Homeland Security (DHS) and the Department of Justice (DOJ) Will implement a rule to make sure that those people who have been subject to expedited removal and who are eligible for asylum are granted relief quickly and to those who are not be promptly removed. The processing time for hearing these cases is about seven years. Due to the reduction of backlogs, this could reduce the case hearings to around several months.
Interim Final Rule
The Interim Final Rule (IFR) titled "Procedures of Credible Fear Screening and Consideration of Asylam, Withholding of Removal and CAT Protection Claims by Asylum Officers" <or> the Asylum Officer Rule authorizes USCIS to consider the asylum applications of certain individuals subject to expedited removal who establish a fear of persecution or torture during their required credible fear screening.
Currently, these cases are decided by Immigration judges within the Department of Justice's executive office for immigration review. Due to the existing backlogs. on these cases, the process for hearing them takes several years on average. Gradually, when this process is fully implemented, the process will take several months instead of years. Only individuals who are placed into expedited removal proceedings after May 31, 2022, are potentially subject to the new process. The first locations for placement under this process will be in two detention facilities in Texas.
Asylum officers will conduct credible fear interviews on the telephone in these two locations. Referrals for AMI's will only be available to those who tell USCIS and ICE an intent to live in the following 6 cities: Boston, Los Angeles, Miami, New York, Newark, or San Francisco. Below is the step by step description of how the process will work during the phased implementation period.
Placement into expedited Removal: Individuals encountered at the border by Customs and Border protection who are placed into expedited removal and who claim fear will be transferred to ICE detention, the same as now.
Credible Fear Interview: People will receive their credible fear interview while in detention, same as now. DHS and DOJ are working to provide individuals with a chance to access legal orientation program providers before the credible fear interview. If the credible fear interview results in a negative determination, the person can request IJ review of the decision, consistent with current procedures. USCIS may also reconsider, at its discretion, a negative credible fear determination that an IJ has already concurred with. This is only possible if the request is submitted seven days within the IJ's concurrence or before removal, whichever comes first.
Referral for an Asylum Merits Interview (AMI): During the phased implementation, people who are placed in expedited removal and who receive a credible fear determination, and whom ICE determines on a case-by-case basis that is appropriate to release may be referred to USCIS for a non-adversarial AMI.
The individual must indicate an intent to reside in Boston, LA, Miami, New York, Mewark and San Francisco. Individuals will be notified that they are being placed into the AMI process when they are served with their positive credible fear determination. The record of the positive fear determination will consist of the asylum application and the service date of the positive fear determination will become the filing date of the asylum application. The AMI will take place no earlier than 21 days and no later than 45 days after the positive credible fear determination.
Individuals released from detention during this time will be placed in detention alternatives (ATD) as necessary to ensure compliance with their reporting, interview and hearing obligations. Individuals will have until seven days (if submitting in person) or 10 days (if submitting by mail) before the AMI to amend or correct the record resulting from the credible fear interview and submit additional evidence. If an individual fails to appear at the AMI, appropriate enforcement action will be taken.
If USCIS finds the individual eligible for asylum, the individual will receive a grant letter informing them of applicable benefits and related procedures.
Streamlined Removal Proceedings: If USCIS does not grant asylum, the agency will refer the case to EOIR for streamlined removal proceedings under Section 240 of the Immigration and Nationality Act. The asylum officer will include an assessment as to whether the applicant demonstrated eligibility for withholding or deferral of removal based on the evidence presented before USCIS.
There will be dockets for these proceedings available in the six cities listed above. During these proceedings, the IJ will review the noncitizen's asylum application and supporting evidence and determine whether asylum should be granted.
In instances where USCIS does not grant asylum, the asylum officer will include in the decision a determination whether the principal applicant demonstrated eligibility for withholding or deferral of removal based solely on the evidence presented before USCIS.
Once the individual is in removal proceedings, if the IJ also does not grant asylum and issues a final removal order, the IJ may confirm the USCIS asylum officer's determination that the individual is eligible for withholding or deferral of removal. If the asylum officer did not find the individual eligible for withholding or deferral of removal, the IJ will further review those claims and make an independent assessment whether the applicant is eligible. If the IJ concludes that the individual is ineligible for relief or protection, they will issue a removal order, and the individual will be expeditiously removed from the United States.
In conclusion, these new rules should hopefully speed up processing times and reduce long standing caseloads for the USCIS agency. However, this phased approach will take time and for all of those who have been waiting, the implementation may cost too much in suffering, family separation, loss of income, etc.
More should be done as soon as it is possible to address the current prolonged processing times as this is depriving many in the United States their Due Process and benefits covered under our Constitution.  For further information, always contact an expert immigration attorney as they are up to speed with law changes and implementation times.