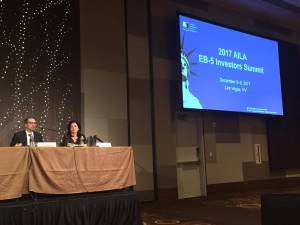 Las Vegas immigration attorney Margo Chernysheva, the founder of MC Law Group and the Chair of the Nevada Chapter of the American Immigration Lawyers Association (AILA), recently spoke at the 2017 AILA EB-5 Investors Summit, which was held at the Aria Resort & Casino Hotel in Las Vegas on December 8th and 9th.
The EB-5 investor visa program encourages international investors to make investments that will create jobs in the United States. In recent years, U.S. developers are increasingly turning to EB-5 capital for project funding, and the number of EB-5 investors and their families immigrating to the U.S. has climbed considerably.
However, some problems have also emerged with the EB-5 investor visa program, so the need for immigration attorneys in the U.S. to provide information and to work together on strategies for effective representation of regional center and international investor clients has never been more urgent.
WHAT WAS THE PURPOSE OF THE AILA INVESTORS SUMMIT?
In these uncertain times, immigration attorneys need to share information and insights with their colleagues. The 2017 AILA EB-5 Investors Summit provided an opportunity for sharing information and insights by featuring panel discussions that included experts in the fields of immigration law, securities, business law, and economics.
AILA panelists focused on legal and policy analysis, due diligence, compliance, enforcement, and ethical considerations, with the goal of improving the ability of immigration attorneys to help their regional center or investor clients navigate increasingly complicated legal and business challenges.
As part of a panel that discussed the topic "EB-5 Bootcamp: Practical Tips On Filing Your First Case," immigration attorney Margo Chernysheva shared – primarily for the benefit of newer immigration attorneys – legal insights and practice pointers for filing an EB-5 petition for the first time.
Attorney Chernysheva also discussed a number of the obstacles that immigration attorneys and their EB-5 investor clients routinely must overcome. Audio recordings of the panel discussions from the 2017 AILA EB-5 Investors Summit are now available for purchase from the AILA website.
WHAT DOES THE EB-5 INVESTOR VISA OFFER?
EB-5 status creates permanent U.S. residency for investors who create jobs in the United States (and their immediate family members). The investment amount is a minimum $1,000,000 in most regions or a minimum $500,000 in targeted rural or high-unemployment regions. The investment must create at least ten full-time jobs. The EB-5 visa does not require a sponsor or a labor certification.
Determining an international investor's best immigration option is never easy. The experienced immigration attorneys at MC Law Group help investors by offering experienced counsel, sound legal insights, and aggressive representation. Our practice includes business and employment immigration and investment and trader visas.
HOW CAN MC Law Group HELP YOU?
If you're petitioning for an EB-5 investor visa, we can help. Attorney Margo Chernysheva's practice focuses on all aspects of immigration law including business, investor, and family immigration. With offices in Las Vegas, Glendale, California, and Guangzhou City, China, MC Law Group represents clients around the world.
MC Law Group provides proven and reliable legal guidance to investors, entrepreneurs, and employers regarding all matters related to U.S. immigration law. Call us today at (702) 258-1093 – or email us – to schedule a free consultation with an experienced Las Vegas immigration attorney.